Bill and George were in office but it was the Establishment that forged the prison system we have today.
A system that is reserved for the majority of lower income; mostly minority while sparing the rich and connected. The rich exempt themselves by either being "too big" to jail of the classic "afluenza" defense where you just need to show you were spoiled and never taught to obey laws.

Under former President Bill Clinton's administration the number of incarcerated rose dramatically, the increase primarily being composed of young black males.According to the Los Angeles Times, "During Clinton's eight-year tenure, the total population of federal and state prisons combined rose by 673,000 inmates--235,000 more than during Reagan's two terms." As I wrote in one of the more popular pieces on incarceration, The Black Male Incarceration Problem Is Real and It's Catastrophic,

"... there are currently more African American men incarcerated in the U.S. than the total prison populations in India, Argentina, Canada, Lebanon, Japan, Germany, Finland, Israel and England combined. India alone is a country of 1.2 Billion people, the country in total only has around 380,000 prisoners."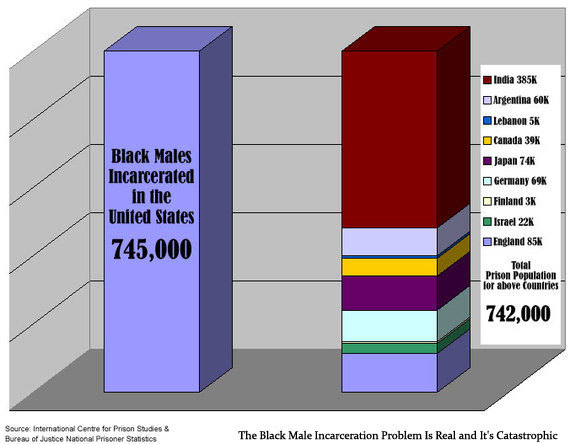 Recently Bill Clinton admitted regret for his part in the incarceration increase stating, "... the president spoke a long time and very well on criminal justice reform,..But I want to say a few words about it. Because I signed a bill that made the problem worse and I want to admit it." But his words do little to correct the effects his legislative pen had on millions of black families. This is covered extensively in the documentary I served as a producer on "Freeway: Crack In The System", which details how lawmakers racialized the punishment of non-violent crimes, and the devastating impact that approach had on black homes across the nation. The increase in gangs and drugs that we covered in our film, resulted in Hillary Clinton calling those convicted 'super-predators', and stating they needed to be brought to heel. An action often reserved for breaking an animal, rather than rehabilitating human beings.
" They are not just gangs of kids anymore. They are often the kinds of kids that are called 'super-predators.' No conscience, no empathy. We can talk about why they ended up that way, but first we have to bring them to heel..." Hillary Clinton 1996
"We cannot fix our criminal justice system if corporations are allowed to profit from mass incarceration."
—Senator Bernie Sanders

With a call to "end the private prison racket in America," a group of progressive lawmakers on Thursday introduced a bill that seeks to subvert the reigning "pro-incarceration agenda"by banning private prisons, reinstating the federal parole system, and eliminating quotas for the number of immigrants held in detention.

"It is morally repugnant and a national tragedy that we have privatized prisons all over America," said Democratic presidential candidate Sen. Bernie Sanders, one of the legislation's lead sponsors along with Reps. Raúl M. Grijalva (D-Ariz.), Keith Ellison (D-Minn.), and Rep. Bobby L. Rush (D-Ill.). "We cannot fix our criminal justice system if corporations are allowed to profit from mass incarceration. Keeping human beings in jail for long periods of time must no longer be an acceptable business model in America."

With the ultimate goal of reducing the inmate population in federal, state, and local facilities, the Justice Is Not For Sale Act (pdf) would, according to a fact sheet:

Bar federal, state, and local governments from contracting with private companies starting two years after the bill is passed;

Reinstate the federal parole system to allow "individualized, risk-based determinations regarding each prisoner and restore fairness in the system;"

Increase oversight to prevent companies from overcharging inmates and their families for services like banking and telephone calls;

End the requirement that Immigration and Customs Enforcement maintain a level of 34,000 detention beds; and
End immigrant family detention.

"In a society dedicated to liberty and justice, for-profit prisons offend our bedrock principles," Ellison said in a statement. "Private prison corporations spend millions of dollars lobbying government for harsher sentencing laws and immigration policy that serves their bottom line, while taxpayers foot the $80 billion dollar a year bill to incarcerate 2.3 million people. Incarceration should be about rehabilitation, not profit.
Now, more than ever, we need to restore confidence in our criminal justice system. Step one is taking the profit out of the punishment."