LOOKING FOR SOME MIDWEST MOJO:
. (Photo by Ricky Carioti/ The Washington Post)
On the Democratic side: Bernie Sanders is
looking to the Midwest
to reclaim some momentum, reports John Wagner, as Florida looks beyond his reach.
"Aides are hopeful Sanders's anti-trade pitch -- which propelled him to a surprise victory in Michigan last week -- will resonate in the Tar Heel state as well as in the industrial Midwest. Sanders has been hitting Clinton hard in those states for her past support of trade deals that he opposed.
"The electorate in parts of Missouri resemble that in Kansas, where Sanders won big over Clinton in caucuses earlier this month. That has been a source of optimism for the campaign in state where limited polling has suggested a close race."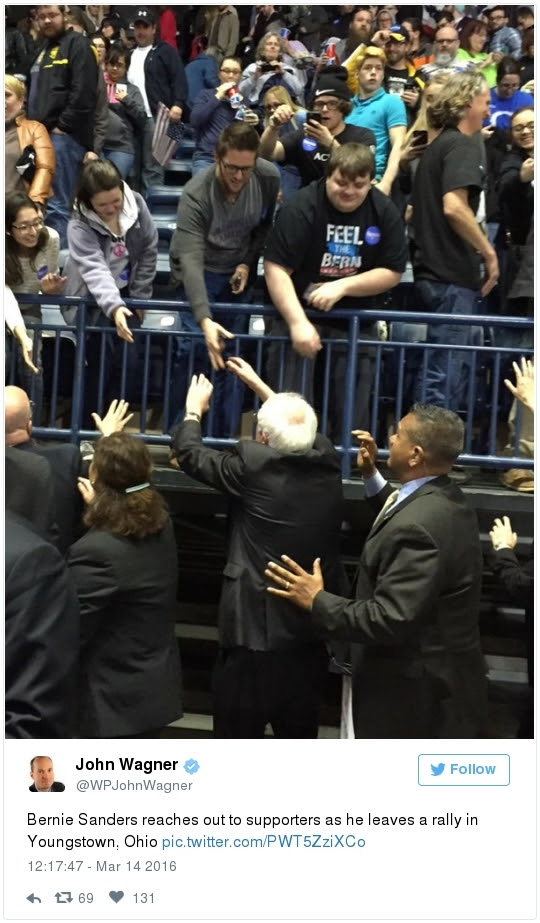 Per the math, the strategy is unlikely to deliver the payoff he needs, notes Philip Bump.

"Let's say that Clinton and Sanders tie in Ohio, Missouri and Illinois and she wins by a 20 points in Florida and North Carolina," he writes. "Per some back-of-the-envelope math, Clinton would get about 380 delegates to Sanders's 315 -- increasing her lead by about 60 delegates. Even if Sanders wins Illinois, Missouri and Ohio, Clinton will still net more delegates if she wins Florida and North Carolina big.

"If delegates split evenly on Tuesday, Sanders needs more than 55 percent of all of the rest of the delegates to tie Clinton."

(Today brought a Sanders soundbite you'll hear again, as the Clinton team uses it to paint him as a Democrat of convenience: One reason he ran for the party's nomination, he said, is that "in terms of media coverage, you have to run within the Democractic Party